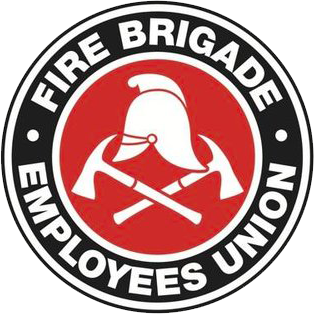 Strength in unity since 1910
Pay sheets re Stop Work
December 14, 1999
With the exception of a handful of members who were exempted in order to maintain "skeleton" crews (see below), all permanent members from Recruit to Chief Superintendent who were on duty were called upon to stop work last Monday December 6 at 1300 hours in support of our ongoing dispute with the Department and Government. That stop work action concluded at 1500 hours.
Last week's Union AGM voted unanimously to support an Illawarra Sub-Branch resolution "That all permanent members who were on duty/at work on Monday 6 December should indicate their attendance at the two hour stop work meeting held between 1300 and 1500 hours that day on their timesheets."
Accordingly, all permanent members of our Union who were on duty that day and who were not exempted should indicate a two hour deduction between 1300 and 1500 hours that day for the stop work action, whether or not they actually physically attended one of our stop work meetings.
Those members who were on duty that day and who were given exemptions should not indicate these two hours on their time sheets. Rather, members who worked through the stop work action should instead donate the equivalent of two hours' pay to a worthy charity or cause, such as the Children Hospital's Burns Unit – cheques made out to the Burns Unit can be sent to the Union office and we'll forward them on. The Department might even follow suit and donate the two hours' pay it deducts from those members who did stop work (don't hold your breath!).
The only exemptions given that day were: 8 Pump/Rescue; 13 Stn.; 15 Pump/Rescue; 20 Pump and Salvage Rescue; 27 Aerial; 36 Stn.; 46 Stn.; 59 Pump/Rescue; 63 Pump/Rescue; 68 Pump/Rescue; 71 Pump/Rescue; 75 Pump/Rescue; 84-Pump/Rescue; 86 Stn. and Syd, Newc, Woll & Katoomba Communications Centres. All retained crews continued to respond as normal.
WHAT'S HAPPENING ON NEW YEAR'S EVE?
Members may recall a Union notice dated 8 November about special payments for public sector employees working this New Year's Eve. Five weeks later, and with a little over two weeks to go, we're still waiting to discuss this with your employer. The Department has been making a lot of noise about Y2K for months now, but when it comes to rewarding the people who are actually expected to do the work – ie YOU – they go very, very quiet. Enough's enough – a Union notice on this issue will now be circulated this Friday, with or without the Department's agreement.
Chris Read
State Secretary