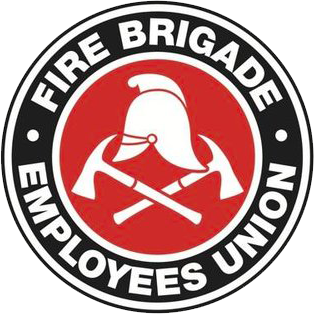 Strength in unity since 1910
UK: National strike to begin Tuesday
October 26, 2002
The UK Fire Brigade Union's (FBU) 52,000 members this month voted 9 to 1 vote in favour of national strike action in support of their claim for a 40 per cent pay rise which would take their basic salary from £21,000 a year to £30,000. Unless there is a breakthrough then Britain's professional firefighters (including 16,000 retained FBU members) will work off the job from 0900 hours this coming Tuesday, 29 October.
Andy Gilchrist, FBU General Secretary said of the members' strike ballot: "This is a phenomenal result and shows the strength of feeling our members have towards winning this dispute. Not one Professional firefighter or Emergency Fire Control staff member took the decision to vote yes in this ballot lightly. Every single one of them knows only too well the risks involved in withdrawing their labour from an emergency service.
"Our members are absolutely determined to end the tradition of low pay in the Fire Service. Our members are demanding a Professional wage for the Professional job they do.
"We want to see an end to Professional firefighters working a 48 hour shift at the fire station and then instead of going home to their families, going on to another place of employment to get enough money to make ends meet."
Blair and his New Labour toads, who have slammed the FBU leadership as "criminally irresponsible", have instead offered firefighters a mere 4%. Those same Government Ministers awarded themselves a 40% salary increase only last year.
Meanwhile, even we were surprised when the Evening Mail reported that "the man in charge of West Midlands fire crews threatening strike action over pay has been awarded a £17,000 rise.
"Chief Officer Ken Knight was given an 18 per cent boost – bringing his annual salary to £108,000. The pay package – which includes a chauffeur-driven Jaguar – was condemned today by rank and file staff who are on the brink of striking for the first time in 25 years.
"One firefighter – who works as a lorry driver on his days off to support his wife and children – said: 'This is a real kick in the teeth.' Meanwhile union officials said Mr Knight's rise, authorised at a behind-closed-doors meeting, 'smacks of hypocrisy'.
"Mr Knight, who was given a CBE for services to the fire brigade last year, has defended his salary boost, saying it was decided by an independent firm of accountants.
"A spokesman for Mr Knight, who has been in the fire service for 33 years, said: 'The review was completely independent and could have recommended his pay went up or down.'
Yeah, sure!
Elsewhere, the Mirror this week reported that "the strike could cost Britain £10billion.
"It emerged that the Government would face a direct bill of £190million if all of the planned 36 days of strikes go ahead between Tuesday and Christmas. But the true cost could be much higher.
"Accountancy group Tenon say the economy would lose £7.2billion as rail, underground and metro networks were forced to close amid fears for fire safety. This in turn would cut the Treasury's revenue from income tax by £3billion.
"Then there would be a huge bill for police overtime estimated at £500million.
"In the Commons, [Deputy Prime Minister] John Prescott said: 'The military will not be able to respond to calls as quickly as the fire service.'
"Police overtime payments could double from last year's £275million as thousands of officers have to escort Green Goddesses (the Army's 50-year-old fire appliances), man emergency control rooms and attend fire calls to keep the public from tackling blazes alone. Transport Secretary Alistair Darling yesterday warned: 'There is no comparison between what a Green Goddess manned by the Army can do and the Fire Brigade.'"
For more on this important dispute, go to the FBU's website at www.fbu.org.uk