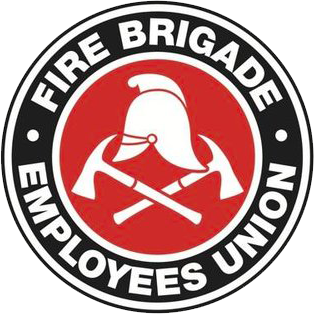 Strength in unity since 1910
UK Update, 2002 AGM Agenda and Meals & Refreshments
November 12, 2002
UK firefighters – National strike certain
British firefighters are almost certain to walk out for 48 hours from tomorrow night after the "independent" review into their wages and conditions yesterday handed down an interim report which could only be described as an insult. The "Bain Report" offers UK firies a woeful 11% increase over two years, and only then if FBU members agree to massive "reforms" including new rosters, new rank structures, co-location with other services and a full first-responder medical role. And that, comrades, is putting it very lightly indeed.
Any way you look at it, a crucial dispute for all firefighters is now being fought out on the other side of the world. Check our website for another report from the UK press today.
Agenda items for 2002 AGM
At its last meeting, the State Committee adopted following resolution in order to allow individual members to submit agenda items for the 2002 AGM:
"That the 2002 Annual General Meeting of the Union be held on Thursday, 12 December commencing at 9 am. Further, that members are to be advised that agenda items for the AGM are to be forwarded to their respective Sub-Branch Secretary by no later than close of business Friday 22 November. Any motions so received shall be referred to a meeting of the Sub-Branch membership or Sub-Branch Executive Committee which shall determine whether to reject the motion, or to forward it on to the 29 November meeting of the State Committee of Management. The State Committee of Management shall at that meeting consider and make a recommendation on each of these questions, which together with its own recommendations shall then constitute the AGM agenda which will immediately thereafter be circulated to all members by way of Union notice."
Members are therefore invited to submit questions for placement on the AGM agenda by forwarding your motions to the State Secretary (by fax, email or post) by no later than close of business, Friday 22 November. The State Secretary will then acknowledge receipt of your motion, and immediately pass it onto to your Sub-Branch Secretary prior to the State Committee's meeting to be held 29 November.
A full agenda for the 2002 AGM will then be circulated together with Sub-Branch meeting details in the week beginning Monday 2 December. Have your say – it's your Union.
Meals and Refreshments
For the benefit of members who may still be unsure about their Award entitlements, the expanded explanation of meals and refreshments which was circulated last bushfire season has again been posted here below. We can, however, briefly confirm two questions over which there has been some confusion of late:
1. McDonalds (or similar) does definitely not constitute a substantial meal; and
2. If neither refreshments nor meals are provided, then both allowances are payable.
On another front, I can now say that not all of the trial Hot Packs are "seriously crap" – only some of them. We've since sampled a few other varieties and the verdict here is that they're actually not all bad. Just stay well away from the so-called "Beef and Vegetable Stew"!
Chris Read,
State Secretary
Tuesday 12th November, 2002
Meals and Refreshments Explained
Both permanent and retained members are entitled to refreshments after two hours attendance at an incident and to a substantial meal after four hours at that incident, followed by a further substantial meal each and every four hours thereafter.
For example, for a 13 hour incident you should receive refreshments after the first two hours, and a substantial meal on the fourth, eighth and twelfth hours. Members should note that refreshments only fall due once during an incident (after the first two hours), but after that they are then superseded by substantial meals every fourth hour. So in the above example, refreshments would still fall due after 2 hours, but would not fall due on the sixth or tenth hours.
Whilst the provision of refreshments and meals is clearly tied to attendance at incidents, it is reasonable during major emergencies for many Brigades to be considered to have been attending one continuous (and very large) incident. That is to say, members responding from one incident to another in rapid succession who couldn't return to their station/base for over four hours would still be entitled to both refreshments and a substantial meal – even though they may havetechnically attended more than one incident. And major emergencies aside, if (for example) City of Sydney's Flyer was responded to so many successive calls that its members could not return to their Station for over two hours, then refreshments should be provided, or the allowance paid.
OH&S considerations dictate that the Union is consistent in demanding the provision of meals in preference to the payment of allowances after the event. The awards provide an incentive for the Department to do so – refreshment and meal allowances become payable if:
members did not receive any refreshments / meals (as the case may be); or
the refreshments / meals (as the case may be) were provided, but arrived too late; or
the refreshments / meals (as the case may be) were provided, but were not of an acceptable or appropriate standard.
In fairness to the Department, the Union doesn't expect every refreshment or meal to arriveexactly on time (though they should still be close) and we'd encourage members to be reasonable in making all claims.
It's also the case that the appropriate allowance should be claimed if refreshments or meals were provided on time, but were not of a satisfactory standard. Acceptable refreshments are generally in the form of both hot and cold drinks together with light snacks (such as biscuits). Substantial meals, however, have proven to be a bit more controversial.
The awards define a "substantial meal" as "a meal similar in standard to that provided by domestic airlines to inflight passengers travelling interstate economy class." Whilst this is only a guide, it does provide some indication of the sort of meal which should be provided (such as hot meat dishes with vegetables, etc). We've had reports of some members being fed two slices of buttered bread (but with no filling), others only a couple of apples, and many more again a Big Mac and a can of soft drink. Suffice it to say that none of these are considered to be "substantial" meals within the spirit and intent of the awards. Again, members are encouraged to exercise judgement (without compromising your award rights) when assessing whether or not the meals you received could rightly be considered to be "substantial" – both in terms of their quantity and their quality.
And finally, members with special dietary needs (ie, diabetic, vegetarian, halal, etc.) who have notified the Department of same are also entitled to have their needs catered for. It follows that the allowances are again payable if these needs were not met.
The allowances for both permanent and retained members are currently as follows:
Refreshment Allowance: $9.60
Meal Allowance: $19.15