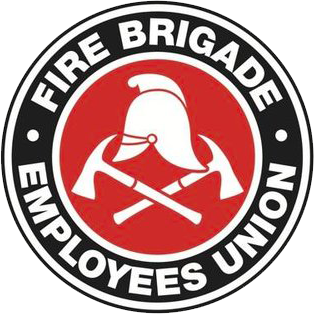 Strength in unity since 1910
Your shout and more…
January 21, 2005
Inside this notice:
You Shout
Duty wear trousers Pt2
AFCs re-opened
Qualified water tanker drivers training
Your shout!
The NSW Fire Brigade Annual Report is always compulsory reading at the pub over a few beers, and with firies playing that age old game of, mine (epaulette) is bigger than yours, page 120 of the 2003/04 report Employee Classification, SES Reporting, fell open due to its top heavy weight.
I'd like to congratulate our fellow FBEU members on CEG who achieved substantial salary increases averaging in the double digits due to a re-grading of their SES classifications. Having not heard of any militant industrial action, trade-offs, nor a Special Case undertaken, it would be assumed these rises are due to the increased skills, efficiency, productivity, accountability, public image and downright hard slog of members.
We all remember the 1 year Award negotiated by NSWFB firefighters and the initiatives agreed to by firefighters to achieve an extra 1% above that offered by the Government. We also remember that our fellow FBEU members on CEG also received that full 4% increase on the backs of members.
The firies have finished playing games in the pub and have decided size does matter and we've always known how to use it. Our glasses are empty so it is expected that, seeing we bought the first round, and you sculled it, it's now your shout and we're not drinking light, or is that CEG empty again.
Duty Wear Trousers Pt2
Further to the Unions notice last week, an unfortunate side effect, for the Dept., was the removal of this item for sale on ESCAT. The Union stands by the advice that firefighters maintain a minimum of 4 pair of Duty Wear Trousers in good condition to allow for the normal rotational issues associated with cleaning, damage, wearing and even drying after being wet.
Obviously the Dept. and the manufacturer have raised the issue of inability to provide thousands of pairs of trousers should firefighters rush the computer to place orders. Consequently the Union met with representatives of the Dept. and they have agreed to formulate a policy for the issue of uniform with a draft available to the Union by 9 February 2005. The Union believes this to be both positive and constructive, allowing all members to finally be aware of issue entitlements and procedures for identification of faulty PPE.
Unfortunately the Department's own initiative of slowing the procurement of Duty Wear Trousers may lead to the very situation that the Union identified. That is, members who find themselves without Duty Wear Trousers in clean and serviceable condition having to refuse operational duties until a pair are returned or become serviceable. Brigade In-Orders 2004/19 withdrew light weight and heavy weight woollen trousers from issue and members are reminded that these woollen trousers no longer form part of the firefighting ensemble.
AFC's Re-opened
Following successful representations by the FBEU to TAFE, enrolments to some Firefighting Courses have been re opened, thereby allowing members to enrol and complete pre requisite competencies required for entry to promotional programs. For details re enrolments contact the Firefighting Section at OTEN on 9715 8451
Qualified Water Tanker Drivers Training
In-Orders 1981/24 states :- "Station Commanders where water tankers are stationed are to ensure that members receive practical pump operation practice on sufficient occasions to enable the efficiency of the operator to be maintained.
Subject to approval by the Station Commander and the Operational/Zone Commander that water tanker drivers be permitted to carry out off road training away from their respective stations without the necessity of an officer to be present. This is provided that the appliance and crew can be contacted by R/T at all times.
Training to be carried out as circumstances allow with emphasis placed on permanent staff utilising the second day shift between 1000 hours and 1600 hours.
When training the crew must comprise driver and one firefighter at all times."
SCOM recently considered this issue. There is great emphasis on practical pump and in particular off-road driver training for the maintenance of necessary skills in this In-order. The problem is that because water tankers are manned primarily by retained firefighters during the course of the year, there is not the opportunity for permanent and at times retained firefighters to maintain these skills. It has become evident that the Dept. needs to manage these training requirements better by an on-going program. Therefore the State Committee has resolved as follows:
"In reference to In-orders 1981/24 – Qualified Water Tanker Drivers Training, that the SCOM demand the NSW Fire Brigades commence a coordinated skills maintenance program for all qualified drivers of off-road four wheel drive appliances to ensure the necessary time be allocated for individual firefighters to practice their skills. An example being In-orders 2002/13 Aerial Appliance Roster Eligibility – a minimum of 15 hours training and/or operational time in every 23 sets of shifts (6 months)."
Craig Harris
Acting State Secretary