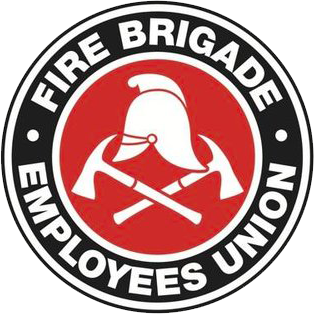 Strength in unity since 1910
Pacific Brands Rally
March 5, 2009
Pacific Brands the parent company of CTE – suppliers of dress shirts to the NSW Fire Brigades, NSW Police Force and the Australian Army announced last week that it would be shifting its manufacturing offshore and sacking 1850 employees in its Australian factories.  
The company claims it has been forced to shift jobs off shore due to the most recent stock exchange crash and the need to drive down its manufacturing costs.
Recent news that the Chief Executive Officer of the corporation was awarded a massive increase in salary around the same time has caused outrage and indignation amongst the general public. The Transport Workers Union (TWU) and the Maritime Union of Australia (MUA) have announced they will refuse to transport equipment used to manufacture clothing overseas and more recently the trade unions in the aviation industry have joined the campaign effectively blockading air, sea and road transport.
Protests have been called in Sydney, Wollongong and Newcastle outside affected factories and the FBEU has been asked to attend each of the protests. Details of each protest are as follows:
Sydney: Midday Friday 6th March – 190 Dunmore Street Wentworthville
Contact Ian Loveday/Jason Morgan 0413 526 873
Wollongong: 3:30pm Tuesday 10th March – 253 Nolan Street Unanderra
Contact Darin Sullivan 0422 436 044
Cessnock: Midday Friday 13th March – Short Street Cessnock
Contact Anthony McLaughlin 02 9218 3444
The attempt to sack these people after the Pacific Brands corporation has squeezed enormous productivity from them over the last decade is a disgrace. Already corporations in Europe, Japan and the USA have been sacking large numbers of people and shifting jobs off shore while the bosses of these corporations maintain massive remuneration packages. If Pacific Brands is allowed to get away with this behavior it will become accepted practice and all of our jobs will be more precarious.
All members are urged to attend these protests and standup for a textile and clothing industry and the rights of Unionised workers to decent jobs.
Simon Flynn
State Secretary