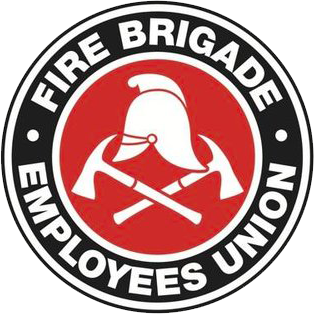 Strength in unity since 1910
SITREP No. 1/2009
July 3, 2009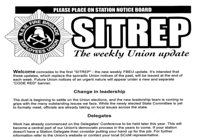 Inside this issue:
Welcome
Change in leadership
Delegates
Website
Meeting with the Commissioner
Welcome comrades to the first "SITREP" – the new weekly FBEU update. It's intended that these updates, which replace the sporadic Union notices of the past, will be issued at the end of each week. Future Union notices of an urgent nature will appear under a new and separate "CODE RED" banner.
Change in leadership
The dust is beginning to settle on the Union elections, and the new leadership team is coming to grips with the many outstanding issues we face. While the newly elected State Committee is yet to formally meet, officials are already taking on local issues across the state.
Delegates
Work has already commenced on the Delegates' Conference to be held later this year. This will become a central part of our Union's democratic process in the years to come. If your station doesn't have a Station Delegate then consider putting your hand up for the job. For further information refer to the Union's website or contact your local SCoM representative.
Website
The Union website is being redesigned to make it more member friendly. The Members' Forum is up for a full overhaul, in response to steady complaints over it's clumsy and user-unfriendly operation. We will launch the revised site shortly.
Meeting with the Commissioner
This week the State President, Darin Sullivan and I met with Commissioner Mullins and Deputy Commissioner Benson. While there is always going to be a tension between those who run the Brigades and the Union, the meeting was a fruitful one. We will be working hard to secure agreement with the Department on the issues that can be resolved, so as best to prepare the ground for those that can't.
Jim Casey
State Secretary