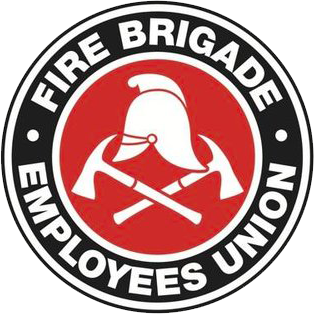 Strength in unity since 1910
SITREP No. 18/2009
October 30, 2009
Inside this issue:
Vale – Comrade Alf Emerson
OHS Harmonisation = Less safety at work
Your retainer is not an availability payment
Elections for Sub-Branch executives
Annual General Meeting
Vale – Comrade Alf Emerson
Our thoughts are with the family and friends of Comrade Alf Emerson, retired Station Officer and FBEU official, who passed away Sunday morning following an extended illness . A staunch trade unionist, committed socialist and tireless fighter for firies, Alf was fittingly awarded the Union's highest honour of Life Membership upon his retirement after 30 years with the NSWFB in 1988
A reminder that the funeral will be held next Monday, November 2, at Rookwood Cemetery, South Chapel Crematorium, 1300hrs. There has been a request from retired members that serving members wear Union tee shirts if attending the service.
OH&S Harmonisation = Less Safety at Work
Federal, state and territory governments are in the process of harmonising OHS laws across the country. Unions were assured this meant raising the national standard to the best and most effective OHS laws in Australia – those found in NSW. Unfortunately, it has meant the opposite – the proposed laws water down current NSW provisions, in particular the right for unions to prosecute OHS breaches.  It is important that organisations other than the government regulator have the ability to bring OHS prosecutions. Another point of particular interest to members is that the draft laws currently provide that while volunteers are subject to the duty of care provisions, they cannot be prosecuted if they contravene those duties.  Unions will continue to campaign against these laws which will put workers at greater risk.
Your retainer is not an availability payment
The Union is receiving calls from retained members saying management is telling them that the retainer is an availability payment and that they must therefore make themselves available to attend calls when instructed.  This is incorrect: there is no availability payment.  The retainer does not define retained firefighters availability. The Union is currently in discussion with the Department to address the inadequate retainer payment and we will keep you informed of the progress.
Elections for Sub-Branch executives
Elections for the Union's Sub-Branch executives are now several years overdue. Over the coming week a notice will be faxed out calling for nominations. If you are interested get in touch with your local Sub-Branch Secretary.
Annual General Meeting
The 2009 Annual General Meeting of the Union will be held on the 25th of November, 1000 hrs at the Union's offices, 1-7 Belmore St, Surry Hills. The agenda is now available on the Union's website @ www.fbeu.net.  Sub-branch and regional meetings will occur in the week leading up to the AGM. Further details to follow.
Jim Casey
State Secretary