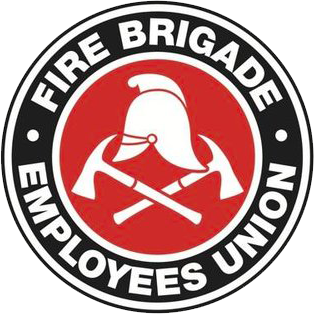 Strength in unity since 1910
SITREP No. 42/2010
October 22, 2010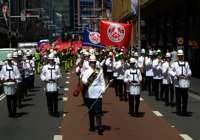 Inside this issue:
Centenary event a huge success
E&T restructure still not finalised
NSW Government sees the OHS light
Additional gazetted holiday bonanza, Part 2
London comrades on strike
Centenary event a huge success
Congratulations to the 1,200+ members who attended yesterday's Centenary March/AGM and helped make it the huge success that it was. We put on a great show that reflected well on the FBEU, the trade union movement and the NSWFB. Minutes and photos will be posted to our website next week.
E&T restructure still not finalised
Whilst the Union has agreed in-principle to the restructure of the Education and Training Directorate, and in particular to the number and allocation of instructor positions, some matters remain unresolved, including the rosters in the position descriptions, the timeframes for applications and interviews, and operational requirements for operational support positions. The Union has brought these matters to the Department's attention on several occasions but is yet to receive a response to its questions. Members are therefore advised not to attend interviews until these matters have been finalised.
NSW Government sees the OHS light
Some rare kudos to the Keneally Government for announcing that NSW would not be part of a national OHS scheme whilst it provided lesser standards for workers health and safety than currently apply in this state. Credit also to the Greens, who have now sided with the NSW Government against Gillard in this dispute. The proposed national OHS scheme gets rid of the rights of third parties (such as unions) to prosecute employers over workplace safety breaches and the onus on employers to prove they provide a safe workplace. Employers, concerned only with their bottom line rather than the safety of their workers, have predictably cried foul through their sycophants in the media.
Additional gazetted holiday bonanza, Part 2
In Sitrep 9/2010, the Union alerted members to a number of additional public holidays that have been gazetted over the upcoming Christmas/New Year period. Last week the NSW Premier also announced that Easter Sunday would became a state wide public holiday from 2011 onwards, resulting in extra consolidated leave for members rostered to work on that day.
London comrades on strike
Members of the FBU in London will strike this weekend after their fire service bosses refused to withdraw termination letters sent to all 6000 of London's firefighters. The bosses plan is to re-hire the sacked firefighters on a new contract, containing inferior conditions. During the strike, London's fire protection, if you can call it that, will be provided by scabs staffing just 27 appliances, which had been commandeered by the employer from stations last week. Please send messages of support for our London comrades to london@fbu.org.uk