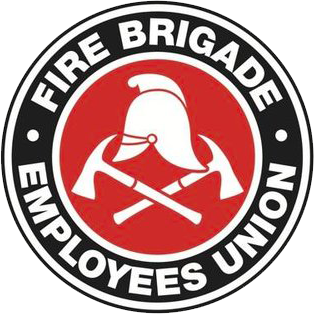 Strength in unity since 1910
SITREP No. 35/2011
September 9, 2011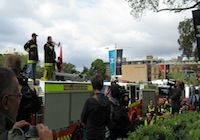 Inside this issue:
Stop work/rally success
Bathurst and Nowra go 10/14
AOD policy management meetings not appropriate – IRC
Additional Inspector jobs, but Baulkham Hills not 'new'
Stop work/rally success
Yesterday saw the biggest rally against the NSW government in a generation, with over 30,000 public sector union members converging on Parliament House to protest against the O'Farrell government's attack on workers' wages and conditions.
Barry O'Farrell is offering us an impossible choice – see our wages go backwards in real terms, or sell off jobs and conditions to fund pay increases that match inflation. So rather than make that choice the FBEU, and other public sector unions, turned out in strength to take this government on. Firefighters were well represented with around 500 members, both on and off duty, in attendance. Particular thanks must go to those members who answered the Union's call to stop work, and to FRNSW workshops staff (who are members of the AMWU) who joined the FBEU on the day. Thank you comrades.
The protest rally was far bigger than expected, and shows the potential for cross-union mobilisation, but it was not in and of itself enough to force the government to backdown. While need more protests like yesterday, unfortunately we are already seeing a gap between those unions prepared to take industrial action (like the FBEU and the Teachers Federation) and those that are unwilling, or unable, to do so.
This means that there is every chance that we will still be facing these laws when the 2014 Award negotiations roll around. So we need to be ready for continued action over the coming two and a half years, with a bitter and protracted confrontation with the O'Farrell government waiting at the end of it.
Judging by yesterday's attendance of FBEU members we are beginning to build up the strength we will need. This fight has barely begun. But make no mistake – if we stay united we can win it.
Mark Lennon, Secretary of Unions NSW has thanked all affiliates for making yesterday's rally such a success and had this to say:
"By all estimates over 35,000 members were in attendance in the Domain yesterday with a further 10,000 attending rallies in regional areas. Clearly one of the biggets turnouts by the union movement in NSW in recent years.It was a great show of unity and strength by the union movement in NSW. There can be now no doubt in the state government's mind of the union movement's resolve to defend hard won rights and conditions."
Bathurst and Nowra go 10/14
Whilst the State Budget contained public sector job cuts of at least 5000 workers (and potentially many thousands more through attrition), we were largely inoculated from the cuts with additional funding provided for Bathurst and Nowra to be upgraded to 10/14 staffing. The Union, and particularly the Country Sub Branch, has been campaigning for the last couple of years to secure these jobs. Bathurst was especially difficult, with the Department insisting up until very recently that enhanced staffing was not required. The budget decision is a direct result of the hard work of the comrades on the ground in Bathurst and Nowra, the CSB, and the Union as a whole.
Bathurst will go 10/14 later this year, and Nowra is scheduled for early 2012.
AOD policy management meetings not appropriate – IRC
Following last Tuesday's Code Red banning members from attending the Department's Alcohol and Other Drugs (AOD) policy management brainwashing sessions, the Department listed the matter before the IRC. In a compulsory conference yesterday afternoon, Commissioner Bishop recommended that while the Union should lift the ban, the Department should also not hold its management meetings whilst the matter was still being negotiated. The IRC recommended that while the Department is able to hold voluntary meetings to get feedback on the proposed policy, it is not to hold meetings to "clarify the policy details and seek assistance to ensure the draft policy is clearly understood by all firefighters." That is, flog an authoritarian and unfair policy to firefighters who don't want a bar of it.
This all could have been avoided had Acting Commissioner Benson agreed to my request prior to the bans being implemented to cancel the meetings. As it turned out, the IRC agreed with the Union's view.
Accordingly, the bans imposed by Code Red dated 6 September 2011 are now lifted. Our advice to members remains that you should not attend any meeting related to the draft AOD policy until a new policy is agreed by the parties, or determined by the IRC.
Additional Inspector jobs, but Baulkham Hills not 'new'
Some more good news from the budget with an additional $4.4 million of funding to enable the creation of additional Duty Commander positions across FRNSW. This should see 7 new Inspector jobs coming on stream in coming months.
But – listed amongst FRNSW's recent achievements in the budget papers is the opening of a new fire station at Baulkham Hills. Whilst there is indeed now a fire station at Baulkham Hills, it is not an additional station, it's a replacement for the now closed Northmead. Unsurprisingly, the closure of this fire station wasn't listed as a "recent achievement."
Jim Casey
State Secretary