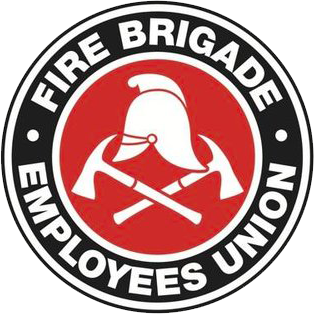 Strength in unity since 1910
SITREP 33/2012
August 24, 2012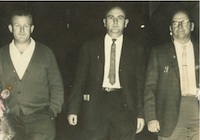 Inside this issue:
Vale Comrade Rex Threlfo
TOLing off line for another week – update #4
New ESCAT 'test space' now online
Corporate colours trump budget cuts
Vale Comrade Rex Threlfo
The FBEU has lost one of its legends this week with the passing of Life Member and former President (1957-1965) Comrade Rex Threlfo. As well as being a life-long unionist and socialist, Rex was also the Chief Officer of the NSWFB (1980-1984). His contribution to advancing the conditions and dignity of firefighters is best illustrated in these passages from the Union's history, The Red Brigade:
"Threlfo had joined the Fire Brigade in May 1946 after fighting as a 'Rat of Tobruk' during World War II, and first became an official when elected Honorary Secretary of the firemen's section in 1955. A left-winger, he worked well with Lambert when elected President in 1957 and earned the nickname 'the Red Baron'. … On 17 October 1980, he went on to become perhaps the most progressive, humanitarian Chief Officer the Brigade has enjoyed. … He never at any time departed from his working class principles during his climb up the ladder."
Rex's politics and principles were on display for all to see in this 1961 NSW Firefighter article, 'We Won't Be Wallopers'. Again from The Red Brigade: "President Threlfo wrote a spirited rebuttal of a newspaper report which said firefighters had turned their hoses on rioters at Parramatta Girls' Home. The police, he said, had borrowed the hoses and used them themselves. He would not like unionists to think, he said, that firefighters would allow themselves to be used as 'a potential anti-working class force'."  The Red Brigade indeed.
Rex is survived by his widow Mavis, his children, grand-children, and great-grand-children. Our condolences go to them at this difficult time.
TOLing off line for another week – update #4
Negotiations with the Department over O'Farrell's massive budget cuts have continued. The Union's State Committee will meet next Thursday, and a final proposal for members' consideration at a soon to be called SGM is expected to follow in next week's SITREP 34.
New ESCAT 'test space' now online
In June this year the Department and the Union held discussions on the introduction of a new online ordering system to replace ESCAT. Consequently, the Union can now confirm that the new system will not alter current delegations for the ordering of supplies and will continue to allow local purchase orders as well as the use of local vendors (for example, preferred local vendors in regional areas). The Department this week launched an online test version to allow staff to see how the new system will work and trial it before it goes live in September/October. Members should email any comments or concerns with the system to office@fbeu.net to allow us to take them up with management.
Corporate colours trump budget cuts
Rein in spending or stations will close, or so we are told. Really? Perhaps someone should tell whoever it was who ordered the new and freshly-painted Delroy Fire Station to be re-painted, at additional expense, in the Department's new corporate colour palette. Yes, really.
Jim Casey
State Secretary