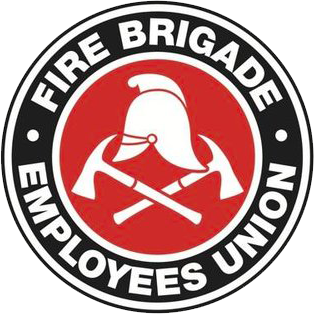 Strength in unity since 1910
SITREP 13/2013
March 28, 2013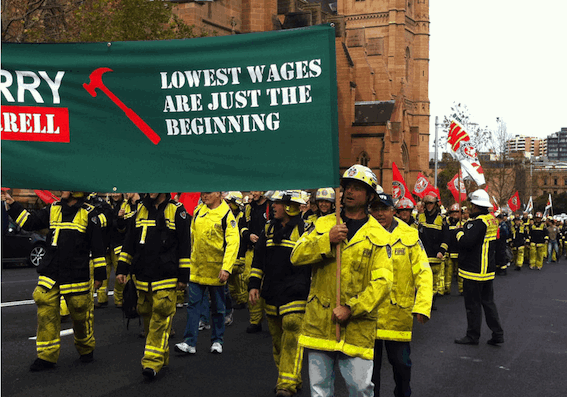 Inside this issue:
Retained Award negotiations update
TOLing: Ashfield Council says no
Easter Sunday  – who gets the consolidated leave?
Who voted Liberal? O'Farrell's second anniversary
Retained Award negotiations update
The Department recently provided its alternative wages proposal and the State Committee today decided to release management's proposed "salary schedule" to allow membership review and feedback. We make no comment at this stage except to note that (1) the Union has not amended or withdrawn our application of 22 February (see SITREP 9/13) and (2) this is the Department's proposal, not ours.
The Union has only held preliminary discussions with management and both parties have agreed that there are many details missing from the Department's proposal at this early stage, but the Union currently understands the primary principles of this proposal to be as follows:
It is cost-neutral. It would not increase the total amount paid to FRNSW retained firefighters but rather, re-distribute the existing hourly payments and retainers in different ways.
The three firefighter retainer grades would be replaced by two firefighter ranks, Grade A and Grade B (the latter being strangely higher than the former).
Members would be required to declare an availability commitment for set hours (and set times) of assured availability, ranging from 24 to 112 hours per week.
Members would then be paid according to their average weekly availability, within one of 6 "call rate" bands based on the number of calls attended annually by your station.
The rates proposed would replace payment for all calls attended, retainers, drills, authorised duties and leave (although hourly rates would still apply in some instances such as major emergencies, stand-by duties, calls which exceed 4 hours and non-station based training).
Availability rostering could vary from week to week and would be rostered by Captains, but would be limited to the minimum number required to staff the station's appliances (eg, only four per pumper at any one time). Each position would therefore be allocated 168 hours each week, to be divided amongst the station's members.
Members are encouraged to consider and discuss the "salary schedule", and to submit comments and questions (of which we're sure there will be many) via email, fax or our website's "Members Forum".
TOLing: Ashfield Council says no
Last Tuesday evening I addressed Ashfield Council on the effect temporary station closures (TOLing) was having on firefighter and community safety. With Ashfield Fire Station having been particularly hard hit since TOLing commenced last November, Council saw through the Department's "blame the firefighter's overtime" spin and went on to adopt this motion unanimously (yes, even the Liberal councillors):
"1. Ashfield Council expresses its grave concern over fire station closures. Particularly, Council considers it to be unacceptable for Ashfield fire station not to be fully operational 24 hours a day.
2.    That Council is especially concerned that the increased response times, resulting from fire apparatus having to travel from other suburbs, pose an unacceptable safety risk for our residents.
3.    It is imperative that such a dense urban area, with many boarding houses, halfway houses, high care nursing homes, retirement villages, highly developed streets, schools and hospital facilities, has a permanently operational fire station.
4.    That the above concerns be directly expressed to The Hon Barry O'Farrell Premier of NSW, with copies to Mr Charles Casuscelli MP, Member For Strathfield and the Hon Linda Burney MP, Member For Canterbury and extend to them an invitation to attend Council and address these concerns."
Easter Sunday  – who gets the consolidated leave?
Further to SITREP 11/2013 and numerous member inquiries, members are reminded that permanent members of Inspector rank or below who actually work on Easter Sunday 2013 (31 March) will be credited with the following consolidated leave:
C Platoon = 10 hours consolidated leave (0800 to 1800 hours);
D Platoon = 14 hours consolidated leave (0001 to 0800 hours and 1800 to 2400 hours); and
F Platoon  = 12 hours consolidated leave (0600 to 1800 hours).
Members who work overtime on Easter Sunday are also entitled to be credited the same number of hours of consolidated leave as those hours actually worked by them on that day.
This consolidated leave credit is in addition to the penalty rates paid for the overtime worked. Members who are rostered to work on Easter Sunday but do not actually work on the day due to any form of leave or a part-change will not be credited with the consolidated leave. Members who do perform a part-change of shift on Sunday get the consolidated leave, not the member who was rostered to work.
Who voted Liberal? O'Farrell's second anniversary
The SMH this week marked the second anniversary of the election of the O'Farrell Government with an article examining its "achievements". Interestingly, the article also noted that setbacks for the Government included "changes to the workers' compensation scheme led to the extraordinary spectacle of fire fighters turning their hoses on Parliament during a general strike, while cost-cutting elicited condemnation from educators, both public and private." Of course that "extraordinary spectacle" resulted in firefighters keeping fair and reasonable workers compensation. The application of the Government's budget cuts to FRNSW leading to fire station closures surprisingly did not, perhaps because this Government does not see firefighting as a front line service.
The article also states that: "Unions NSW marked the milestone last week with a campaign featuring the irony-rich slogan: 'He's been doing plenty: jobs cut, services cut, rights at work cut.'
The references were to the axing of 15,000 public servants; savings imposed on every department including education, health and transport; and the workers' compensation overhaul capping entitlements and removing journey-to-work claims.
But as one Liberal figure gleefully points out, the O'Farrell government has escaped the sting that often accompanies such reforms. "The reforms have been just as big as anything in Queensland and we've cut just as many public service jobs", he says. "Yet it's escaped the fanfare and the headlines. That's great testament to Barry's political skills."
Actually, it's more to do with a compliant media, and the atrocities of former Labor shysters Macdonald and Obeid, now being uncovered at the ICAC.
Jim Casey
State Secretary