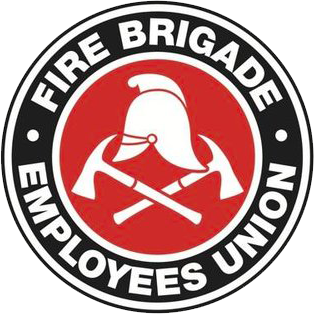 Strength in unity since 1910
Media Release – Fire Station closed during Caltex incident
July 12, 2013
Budget cuts resulted in Botany Fire Station being closed during major fuel leak incident at Caltex Oil Terminal
Botany Fire Station, which is just three kilometres from the Caltex terminal, was closed when a major fuel leak occurred early this morning, the Fire Brigade Employees' Union has revealed.
Budget cuts to Fire and Rescue NSW have led to a policy that sees stations temporarily closed, or taken "off-line", with crews moved to alternative stations to fill shortages.
This policy was in operation at the time of the incident, with Botany Fire Station left unattended and the crew sent almost 15 kilometres away to Campsie Fire Station.
The union said the temporary closure impacted on the response by emergency services as it took longer to get adequate firefighting resources to the Caltex terminal.
FBEU secretary Jim Casey said the valve failure that resulted in approximately 130 thousand litres of highly volatile unleaded fuel being spilt was an extremely dangerous incident that could easily have had deadly consequences.
"When this valve failed at about 1.30am this morning, sparking a major emergency and forcing the implementation of a one kilometres exclusion zone, a fire station just three kilometres up the road was sitting empty because of a dangerous budget-cutting policy," Mr Casey said.
"Thankfully firefighters were able to contain the fuel and shut off the valve, but this incident had the capacity to not only cause catastrophic property damage, but also take lives.
"The union has confirmed that Botany Fire Station was closed due to budget cuts when this emergency erupted.
"The temporarily closure of fire stations to meet the O'Farrell Government's budget cuts is placing workers and communities at risk for the sake of marginal savings."
Last week, councillors from the City of Botany Bay passed a motion calling for an end to the temporary closure of their local fire station, expressing deep concerns over the impact on community safety.
"This policy, which is being expanded because Fire and Rescue NSW has been ordered to slash 'employee-related expenses' by $64 million over four years, is leaving communities exposed to greater fire risks as local fire stations are shut on a daily basis," Mr Casey said.
"This is not the first time that this local area has experienced a delayed emergency response. Earlier this year a car caught alight 500 metres from Maroubra Fire Station, but the response was delayed by precious minutes because that station had been closed and the crew relocated to Sutherland.
"Premier Barry O'Farrell has an obligation to intervene and end this dangerous policy where the public are unknowingly being put at risk on a daily basis.
"We are extremely thankful that no one has been killed or seriously injured because of this policy, but this morning's incident at the Caltex terminal reinforces that it is a matter of when, not if, this cut to front-line fire services will lead to a tragedy.
"Whether responding to fuel leak, house fire, car accident or rescue, firefighters know that every second is precious, and can mean the difference between life and death.
"To see the government roll the dice with community safety for the sake of a few dollars is truly disgusting."
Friday 12 July 2013
Doorstop: Fire Station shut during Caltex emergency
Where:     Botany Fire Station, 3 Banksia St, Botany
When:       2.15pm, Friday 12 July
Who:         Mick Nairn, FBEU Sydney South Sub-Branch Secretary
Ben Keneally, City of Botany Bay Mayor
Michael Daley MP, Member for Maroubra