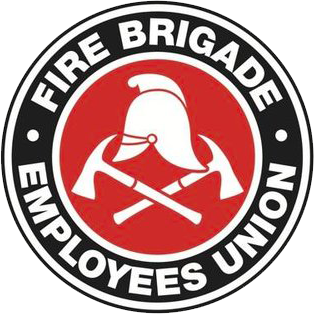 Strength in unity since 1910
FBEU Members are directed NOT to write on any painted surfaces on FRNSW property. Only chalk up glass and aluminium surfaces.
Refer to current Code Reds for more information.
How do we get liquid chalk?
Liquid chalk can be purchased at some supermarkets and art supply/stationary stores. It can also be ordered online through various websites including Officeworks and Woolworths.
We ask that all members test the liquid chalk on a glass/metal surface and ensure it can be cleanly removed before you use it on FRNSW property. In order to be certain to avoid damage do not not use the liquid chalk on paintwork, stick to glass surfaces and the pocket doors on appliances. If in doubt we have tested the below brand for you: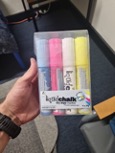 We are encouraging all members to organise amongst yourself someone to purchase some liquid chalk for you shift and/or station. You can claim a reimbursement and upload your receipt at this link.
Send us your photos
Send photos of your crews and your chalked-up appliances and stations to campaigns@fbeu.net
New 'Plus Plan' themed chalk messages
Members may have seen the recent articles in the Australian which spurred discussion on Ben Fordham (2GB) and 702 ABC Sydney about the incredible cost of the so called Plus Plan – particularly the expenditure on consultants, and increasing response times linked to rising fire fatalities. In the lead up to FRNSW Open Day and as these stories circulate in the community, it is important we highlight these issues. We are also looking to highlight that firefighters (not executives) care about the community. Again we encourage you to get creative but here are a few ideas:
This red square cost Millions $$$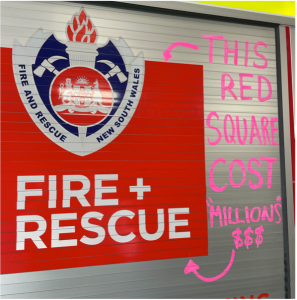 $7,500 a Day???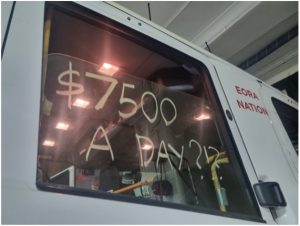 $11.8m on Consultants / Senior Execs Doubled while Firefighter Staff Reduced

The Commissioner spent all our budget on consultants
Where has $11.8m gone?
*Note – this photo is from NZ (hence the $600 million figure). 
Our members are asked not to write on painted surfaces.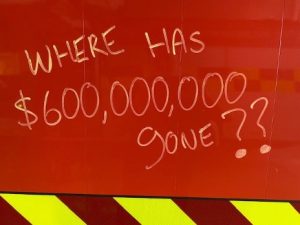 Modify the "F" in Fire and Rescue to be "Dire and Rescue."

Fire Fighter Safety = Community Safety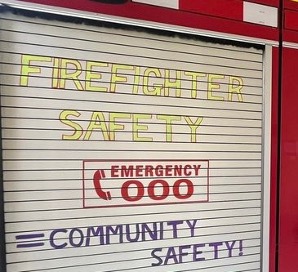 Other ideas:
"Response Times Matter"
"Do you want a guaranteed response time?"
"Longer response times = greater risk to you"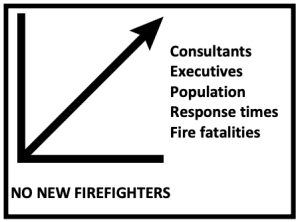 FRNSW to do list:
Millions on Consultants √
Branding and Optics √
Alienate Fire Fighters √
Increase response times √
Increase fatalities √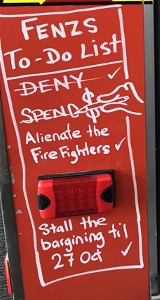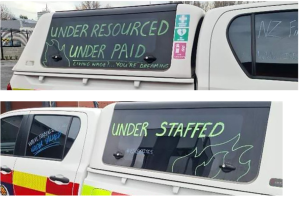 Don't forget, it's not just fire trucks that can be chalked up!
And calls to FIX OUR FIRE SERVICE are still relevant!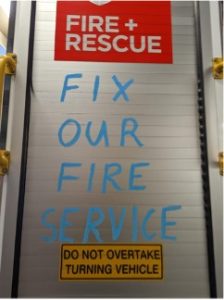 Open Day Station Prep
A key part of our industrial campaign is community awareness of the need to FIX OUR FIRE SERVICE! Open day presents a great opportunity to get the public thinking about our campaign and have conversations with the local community. Not only will chalked up trucks and Fix Our Fire Service T-Shirts look great, there's opportunities to use the community noticeboard, Fix Our Fire Service corflute and other surfaces around the station to get our message out there.