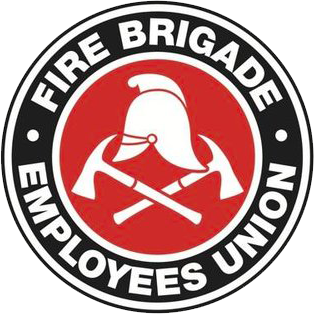 Strength in unity since 1910
NATIONAL INDUSTRIAL ACTION
July 31, 1995
The Victorian Branch of the United Firefighters Union of Australia has been locked in a heated wage dispute with the Kennett Government and Metropolitan Fire Brigade Board (MFB) for over five months. The Union has to date flatly rejected the 10% on offer which is tied to a requirement to undertake First Responder medical duties. The Union is demanding 16% without any trade-offs, and has refused to consider any First Responder role as part of these negotiations.
The Victorian Branch has refused orders by the Australian Industrial Relations Commission to lift bans presently in place. In an unprecedented move, the Kennett Government has now sought to take civil action against individual Union officials and members, as well as taking orders against the Union for damages. This is redneck Union-busting at it's worst, and is looming as being as large a dispute as that of Weipa-CRA.
The Victorian Branch has identified over 260 new work practices which the Government is refusing to recognise. The 10% offered is the same as that offered to Police and Ambulance officers, and highlights the inability of firefighters to effectively bargain under "productivity" principles given our role in a non-productive service industry. History demonstrates and Victoria proves that the only effective way for firefighters to achieve a fair go is through sheer industrial muscle.
This dispute directly impacts upon every firefighter, and potentially affects every worker in the nation. This dispute will have direct impact on the success or otherwise of the NSW wage round due in August 1996. The UFUA National Executive met yesterday and resolved to initiate national industrial action in support of the Victorian Branch. It's time for Kennett and any other Government contemplating an attack on firefighters to learn that this Union and it's members won't be pushed around. National industrial action at present is contained to administrative bans, however that action shall escalate if necessary.
ACCORDINGLY, EFFECTIVE 0800 HRS, MONDAY 1ST JANUARY 1996, NO MEMBER SHALL UNDERTAKE ANY PAPER WORK OTHER THAN THE COMPLETION OF TIME SHEETS AND LEAVE APPLICATIONS. THIS BAN INCLUDES OCCURRENCE BOOKS, FIRE REPORTS AND AFA CHARGES, AND SHALL REMAIN IN PLACE UNTIL FURTHER NOTICE FROM THE STATE SECRETARY. NO CATCH-UP PAPERWORK IS TO BE UNDERTAKEN AT THE CONCLUSION OF THE DISPUTE.
Chris Read
State Secretary
31st December, 1995