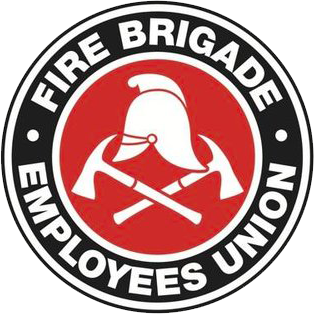 Strength in unity since 1910
BRIGADES UNDER THREAT – WHO'S SCAREMONGERING?
October 23, 1997
"The member for Dubbo has chosen to seize upon a circular of the Fire Brigade Employees' Union which makes mention of a proposal under discussion by the Joint Fire Services Standing Committee. But it is only that: one proposal, among others, under discussion."
Bob Debus, Minister for Emergency Services – Media Release 8/10/97
"Nor does it suggest, I might add, that jobs are going to be lost because the (NSWFB) Brigade  members which are being spoken of in this context are retained firefighters, that is they are essentially paid volunteers. You may well find that in the longer term, and possibly largely I suspect by attrition, that there will be a transfer of responsibility (from NSWFB to RFS)."
Phil Koperberg, Commissioner Rural Fire Service – ABC Radio interview 8/10/97
"There are some areas which have a low call-out rate – perhaps 1 or 2 or 3 or 4 or 5 or 6 a year, where the service can be adequately provided by a volunteer brigade of a different nature."
Phil Koperberg, Commissioner Rural Fire Service – ABC Radio interview 8/10/97
"Peak Hill has NSW Fire Service (ie No. 419 Stn., NSWFB) when a Rural Fire Service would suit them. The only thing that would change would be a badge."
Ian Thomas, Chief Superintendent Rural Fire Service –  interview, Dubbo Daily Liberal 19/10/97
"If we find that one of our voluntary brigades can better look after the fire protection of one of those towns without a permanent or retained brigade, then we will recommend to the government that this should happen."
Phil Koperberg, Commissioner Rural Fire Service – interview, Sun Herald 19/10/97
"A volunteer service cannot guarantee a reasonable response 365 days a year as is required by the community in this day and age. I believe that any closure of NSWFB stations will severely reduce the level of service that the community has grown to expect."
Robert Patterson, NSWFB Captain No. 256 Stn, Cobar – interview, Dubbo Daily Liberal 9/10/97
"Much of the substance of Mr Patterson's comments appear the same as that issued in a NSW Fire Brigade Employees Union circular recently issued.
The NSW Fire Brigades unreservedly disassociates itself from these comments."
Ian MacDougall, Commissioner NSWFB – Letters , Dubbo Daily Liberal 22/10/97
"I have never said these stations were to close. What I did say was that control would be passed to the RFS as a backdoor method of merging the two services. The Minister has refused to deny that proposal and I call on him to do so now."
Gerry Peacocke, MP for Dubbo – interview, Dubbo Daily Liberal 21/10/97
YOUR UNION HAS BEEN ACCUSED OF SCAREMONGERING. DECIDE FOR YOURSELF.
THE FACT IS THAT THE UNION WILL CONTINUE TO FIGHT FOR ITS RETAINED MEMBERS AND BRIGADES. COUNTRY NSW NEEDS MORE PROFESSIONAL SERVICES, NOT LESS.
Iain Bailey
Industrial Officer (Retained)
for State Secretary 23rd October, 1997