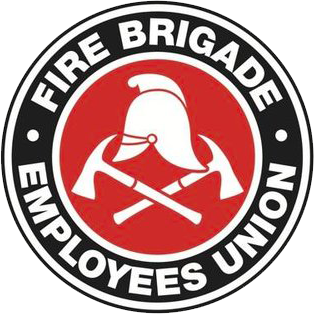 Strength in unity since 1910
D&D Dispute update – members stop work
February 27, 2003
At 1300 hours today, our Union commenced rolling strike action to force the settlement of our never-ending D&D Dispute prior to the State Election on 22 March. 
Significant "behind the scenes" progress had been made over the last two months, but when the Government promised to deliver a full draft D&D award for us to consider by Monday morning, it didn't arrive. And when the Government again promised an award by yesterday morning, nothing arrived. The Union late yesterday made a clear and unambiguous demand on the Government to deliver the award by 1000 hours today. Yet again nothing arrived and the Union began calling members at pre-selected Stations off work from 1pm.  
With 6 Stations out, our rolling strike was suspended by 1400 hours after the Government gave a firm commitment to deliver their draft award by 5pm. Needless to say the Union made it crystal clear that our strike action would recommence if they again failed to meet that commitment. The long promised draft was duly delivered by the Premier's Dept. at 4.45pm.
So where to from here? As stated above, the Union's officials are now working flat-out to reach agreement on the D&D award and to have that award ratified by the Industrial Relations Commission prior to the State Election. That leaves us with just 15 working days. 
The State Committee of Management at its monthly meeting tomorrow will schedule a series of Special General Meetings to be held in the week commencing 10 March. Members at those meetings will be voting on one of two things – endorsement of a D&D award or industrial action. Our energies are now being directed to ensuring that members will be doing the former rather than the latter, but in the interim all members should remain prepared for the possibility of further disputation between now and 22 March.
Thank you to our members at City of Sydney, Newcastle, Wollongong (and Riverwood who were standing by), Berkeley Vale, Narrabeen/Alexandria (who were both standing by at Crows Nest) and Parramatta who, without hesitation or warning, immediately stopped work when asked by their Union to do so. That these members were prepared to take direct action and be docked for doing so in order to help force this dispute to a successful conclusion has placed the remaining 5,500 of us in their debt. Stay United!
 Chris Read
State Secretary