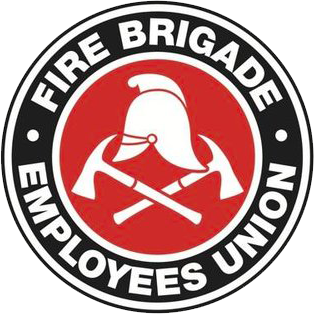 Strength in unity since 1910
MARCH ON MAY DAY '97
April 23, 1997
May Day is an international day of solidarity for workers all over the world. It began in Chicago in 1884, when police shot at crowds demonstrating for the 8 hour day – killing many. Each year on May Day millions of workers and their unions celebrate the victories the working class have won through years of struggle. May Day also allows workers to express our demands for a higher standard of living, for world peace and for international solidarity. With the current wave of new-right attacks upon workers, this year will be a march against union-busting, against racism and against attacks on social welfare and education.
The FBEU has been marching on May Day for more than 50 years, as the above photograph from the 1946 FBEU May Day contingent shows. This year will be no exception. All members are again encouraged to show firefighter solidarity by marching with the Union's officials and banner. The Union will provide refreshments for those attending, after the march. The May Day march is a good opportunity to meet up with old workmates, meet other members and your elected officials, and show the public (and Dept) that firies are Union and Proud.
It would be helpful if members intending to come along could advise Office Manager, Peggy Howes asap. Otherwise, members can simply turn up between 1100-1130 hours, Sunday 4th May at the Union Office, 267 Sussex Street Sydney.
Chris Read
State Secretary
Wednesday 23rd April, 1997